Ethereum has the largest gains on the daily chart for the major cryptocurrencies based on market capitalization. At the time of writing, ETH is up 4.9% and is trading at $ 2,328.58. With sideways movement in the weekly and 46.7% gain on the monthly chart.
More appreciation for ETH appears to be imminent. The network appears to solve a "disadvantage" that has been used by its competitor to gain market share and high transaction costs. Data from EthGasStation indicates that a quick or standard transaction costs between 45 and 50 gwei.
As can be seen in the chart below, ETH's gas fees have been declining since April 20th. At that point, this statistic rose to an average of $ 37, their highest cost since February 2021. The trend appears to be reversing and the statistic is close to its lowest point this year with an average cost of $ 10.22 per trade.
EthHub co-founder Anthony Sassano, believes There are 4 main reasons why fees are getting cheaper: the increase of the gas limit (block size) by 20%, a cooling in the crypto market, implementation of second-tier solutions and the adoption of Flashbots. The latter seems to play a major role.
As reported by NewsBTC, Flashbots is an organization that develops tools to reduce and improve Miner Extractable Value (MEV). They are the opposite of Priority Gas Auction (PGA) as Flashbots have a positive effect on lowering gas costs. The organization defends a 'transparent' MEV ecosystem.
As reported pseudonym developer "Stephane" has added nearly 72.22% of the Ethereum hashrate to Flashbots and their tools. Miners used them to maximize their rewards. This statistic is up nearly 15% in the past two weeks.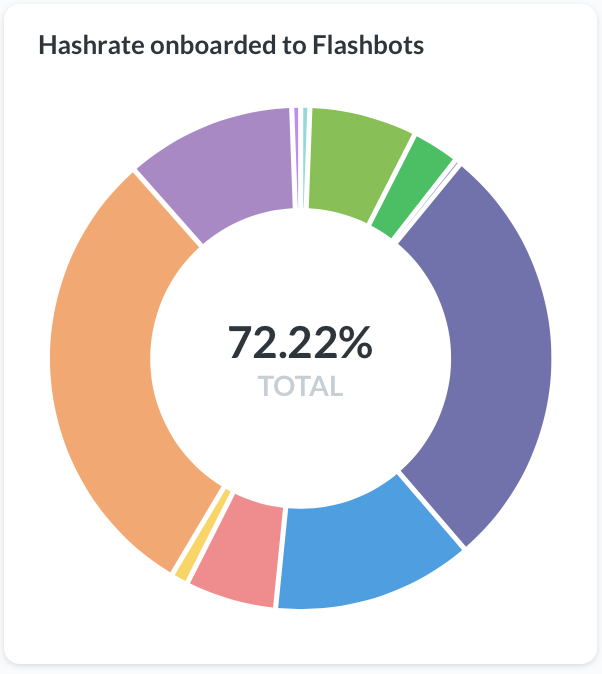 The future of Ethereum gas fees
The implementation of EIP-1559 with Hard Fork London has aroused much discontent from the mining industry. Others are committed to finding new ways to maximize their profits. As an investor Spencer Noon saidCould Flashbots Become a Backbone of ETH's New Fee Market:
I dived into the early # Flashbots data and * good lordy * $ ETH miners just donated an incredible new source of income. ~ 5% extra revenue per block and that figure will only keep on rising. Few understand the impact of this on the $ ETH security budget.
In addition, Ethereum investor Aftab Hossain believes EIP-1559 could reduce trade bids wars and stabilize fee costs. In addition, some negative MEV strategies can become unprofitable to the benefit of Flashbots.
However, Hossain expects fees to be "scaled back" to current levels as Ethereum's blockchain is used for more purposes. Hence, demand is rising, at least for the short term, as sharding and new features on ETH2 are in development. Hossain said:
doesn't matter that L1 will still be used for different txs, as it has a uniquely constructible utility and value that L2s may not be able to provide for a while.